Closer to you
With the 5 consultation centers, we offer you quality care and rapid support.
Whether for eye diseases or vision disorders, we provide patients with the latest generation of diagnostic equipment to offer the most appropriate treatment for each case.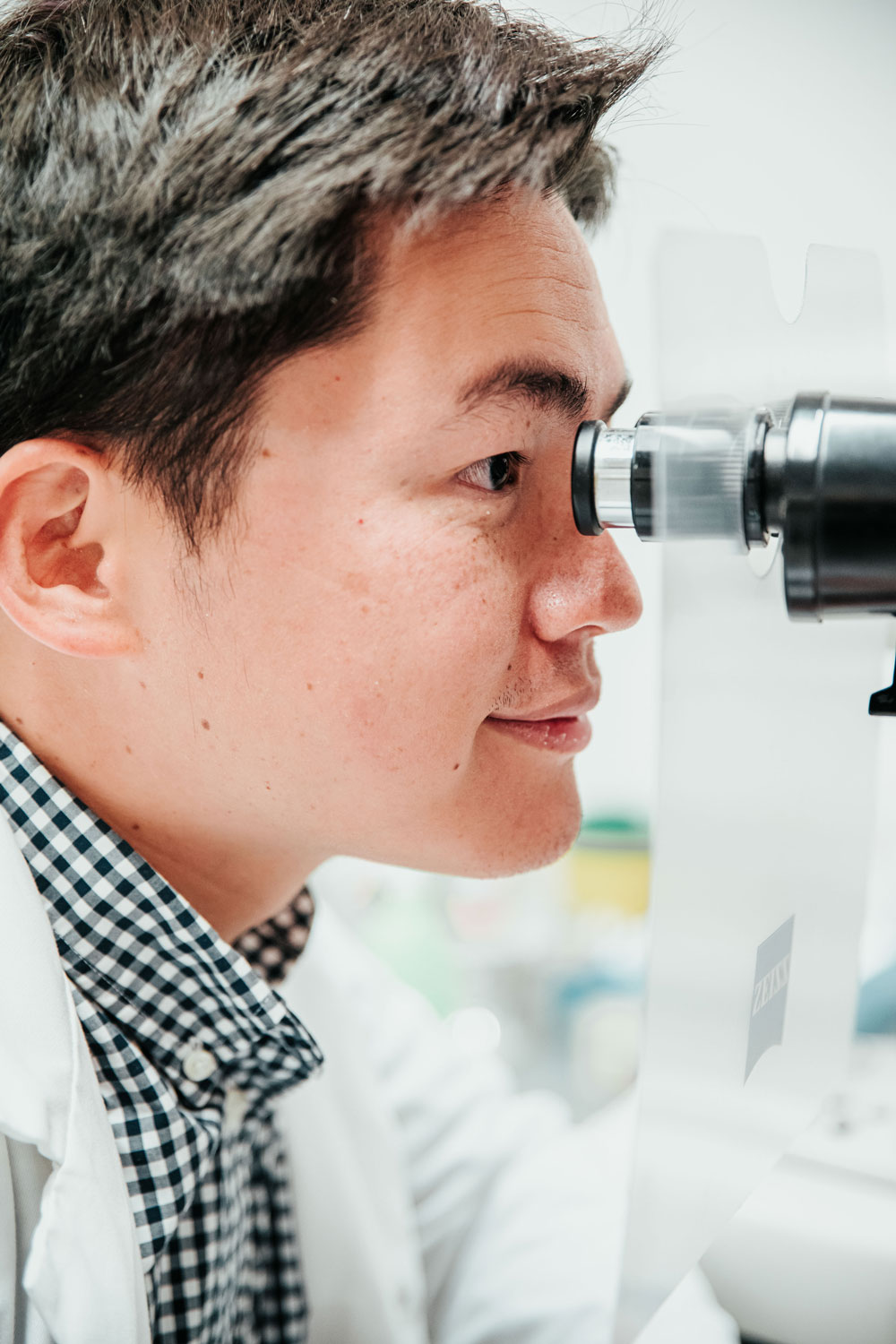 General Ophthalmology
Cataract Surgery
Laser Eye Surgery
Eyelid Surgery
Medical Retina
Intraocular Implants
Overview of professional experience
2012 Graduated in Medicine at UCL, 1st in class
2012 – 2016 Specialization in Ophthalmology at UCL Saint Luc
2014 Interuniversity Diploma in Refractive and Cataract Surgery
2015 Training in surgery at the Rothschild Ophthalmological Foundation, Paris
2015 Diploma in Health Care Management at the Katholieke Universiteit Leuven
2016 : Fellow European board of ophthalmology (FEBO), 3rd place, Alan Ridgeway Award
2016 : Fellowship in Ophthalmic Surgery at the Rotterdam Eye Hospital
2016 : Observership in Anterior Segment Surgery at Moorfields Eye Hospital, London, UK
2016: Humanitarian Ophthalmology Mission in Nioki, Democratic Republic of Congo, with the Ophthalmology World Wide Organization
2016: Interuniversity Diploma in Orbito-Palebro-Lacrymal Surgery, University of Reims-Champagne-Ardenne
2019 : Postgraduate Degree in Surgical Leadership at Harvard Medical School (Class of 2019)
Languages spoken
French, English, Dutch, Spanish, Mandarin Chinese.
PATIENTS' TESTIMONIES
Dr Qin a effectué une opération au laser pour rectifier ma dioptrie. Les résultats sont parfaits, merci pour ce professionnalisme!
J'étais myope et astigmate,  et après 35 ans de lunettes et lentilles avec une forte correction de – 14 Dioptries, le dr Qin m'a opérée avec les implants icl et depuis je ne porte plus de lunettes, Je suis très contente du résultats, en plus de ça le Dr Qin est très professionnel, gentil et à l'écoute des patients, je le recommande vivement.
Tellement satisfaite de cette opération cataracte , vous m'avez donné une nouvelle vie . Encore merci à vous et votre équipe.

10/10 après opération

Très bonne opération de la myopie, je recommande, toujours à l'écoute et disponible.
J'étais myope et astigmate, et le dr Qin m'a opérée au laser. Depuis, je ne porte plus de lunettes du tout. Je suis vraiment ravie du résultat. En plus, le dr Qin est très aimable et sympathique. Je le recommande vivement.
Le Docteur QIN m'a opérée fin août de la cataracte avec des implants multifocaux. L'opération est un réel succès après plus de 30 ans de lentilles et lunettes, aujourd'hui 10/10 aux deux yeux. C'est magique. Je recommande vivement le Docteur Qin pour son professionnalisme, sa gentillesse, sa disponibilité. Il a eu toute ma confiance et j'ai bien fait de l'écouter et suivre ses conseils. Il maîtrise les dernières techniques en date, et est une référence dans son domaine.
Très beaux résultats concernant une opération d'une paupière rentrante. Après 6 semaines, tout est parfait. Merci au Dr Qin pour son professionnalisme.
Chirurgie des paupières de haute précision. Résultats inespérés avec une esthétique préservée. C'est aussi grâce à l'expertise du docteur Qin que je dois ainsi la sauvegarde de la cornée après consultation de son avis.
Ophthalmologist in Brussels and Namur
You want to make an appointment? You can either call one of the 5 sites via the button below, or make an appointment directly online in the Contact section, or send me a message in the Contact section
The ophthalmology secretaries and Dr. Qin's team are available to answer all your questions and requests for information in order to make the best choice. I will be pleased to welcome you at one of the 5 sites.